I really enjoyed the What's Up Wednesday posts I was doing for a while and have been looking for something to fill in. Then I saw a post by Katy Upperman titled Currently and thought I'd give it a try. Her first post linking back to the original is
here
.
Loving
Yoga! I took a two-hour Ashtanga workshop that a friend of mine hosted. It was a lot harder than I imagined yoga could be. But then again I think it's because I had the whole idea of yoga commercialized. This was the real deal.
Reading
The Moon and More by Sarah Dessen. It's the perfect start of summer read. I'm also going to be looking up and studying yoga books and sites.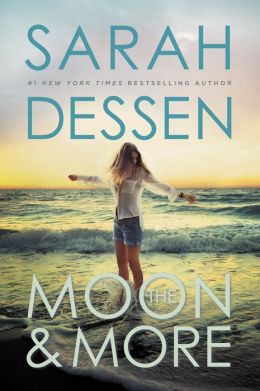 I love this cover much more than the hard cover. I actually own both, a signed hard copy and then this paperback.
Watching
Pretty Little Liars, Melissa and Joey and Baby Daddy. Love all three of these summer time shows. ABC Family has some of the best series.
Thinking about
The weekend. Work has been crazier than normal and I'm ready for that to end.
Anticipating
My (middle) brother's wedding. It's in less than two weeks!
Wishing
That friends and family didn't have to leave.
Making me happy
Summer! It's weird, I usually don't get into summer. It's my least favorite season. But I'm loving it so far. Last weekend kiddo and I hit the beach with my mom. This past weekend we rented a pontoon boat for a few hours out on the bay. We even happened upon a pod of dolphins! It was breathtaking.