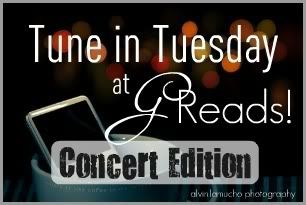 Tune In Tuesday is a fun weekly post hosted by Ginger at
GReads
. It's a great way to see what kind of music other people are loving. And December is another theme month. For the month of December we are posting songs from concerts we have been to or would like to attend!
Before Ginger got into theme's I actually posted songs from concerts I've been to, so I'm going the "concerts I want to attend" route.
Took me a little bit to come up with a person/band for this week but out of no where it came to me. LINKIN PARK! I love them like no other. Every time I listen to Hybrid Theory I feel like I'm in high school. I would love to see them in concert, I bet they rock. They actually came very close to me at a music festival a couple hours away but I was already going to be hours away in the other direction at a writers workshop the same weekend (and not to mention the tickets for said music fest wer
e insanely expensive). Maybe one day I'll get the chance. Until then...I'll just enjoy their music through my speakers.
Leave Out All The Rest