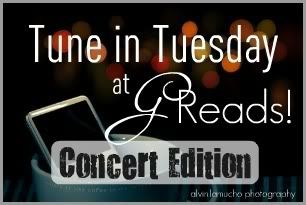 Tune In Tuesday is a fun weekly post hosted by Ginger at
GReads
. It's a great way to see what kind of music other people are loving. And December is another theme month. For the month of December we are posting songs from concerts we have been to or would like to attend!
These concert posts are tough for me! I'm very picky about who I'd want to see in concert. I've been thinking on this weeks for a few days and it just came to me an hour ago! AEROSMITH!!!!!!!!!
Yes...I would love to see Aerosmith in concert. And I almost did! Hubs and I had tickets about six years ago. Hubs got off work, we got ready and drove to the venue an hour away. Only to find out it was canceled. *insert very sad face here* To say I was bummed is an understatement. We drove the whole way and THEN find out it's canceled. The radio station was just announcing it as we pulled into the parking lot. Instead of a great night of music we got ice cream and went to a movie (which turned out to be lame, I remember because hubs picked it).
ANYWAY....here's a few of my favorites.