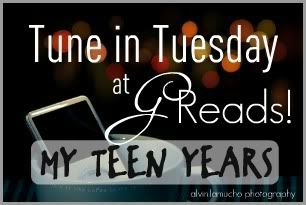 Tune In Tuesday is a fun weekly post hosted by Ginger at
GReads
. It's a great way to see what kind of music other people are loving right now. And we're back in a special edition month!
July (from G's blog)
- My Teen Years Special Edition: What were you listening to when you were a teenager? We all come from different decades, with different tunes. For this month, please pick some of your favorite songs that bring you back to those glorious teenage years!
I was a teen in the mid to late 90s. 90s alternative/grunge is still some of my all time favorite music (I adore the 90s alternative Pandora station). I'm posting music from 1996 (year I started HS) to 2000 (graduation). One year per week. This week is 1996.
The Fugees - Killing Me Softly

Smashing Pumpkins - 1979 - My favorite SP song!
Oasis - Wonderwall
And although their last album was released before I was a teen, I still listened to Nirvana a LOT!