I tried book blogging before...it didn't work out. I ramble too much. A few years I decided to post once a month with a small blurb about each book I read that month. It works better for me. So much so that I'm going to continue this year. You can click on any picture and it'll take you to the Goodreads page.
The Dream Thieves by Maggie Stiefvater

I didn't like this book as much as the first the first time around. But I seemed to pick up on a few more things on my second listen.
Summer Skin by Kirsty Eagar
This book was utterly incredible. The story, the setting, the characters, the WRITING...amazing. I thought Raw Blue was great and then this happens. Jess is one of those characters you can't help but root for. She's imperfect and broken and real. I want to be her best friend. And Mitch, damaged, redeemable Mitch. Must read book. A favorite for sure.

Blue Lily, Lily Blue by Maggie Stiefvater

So much mystery! Second time listening to the series and I picked up on a lot more this time around. I can't wait to see how it ends with The Raven King.
Always Second Best by Elodie Nowodazkij
| | |
| --- | --- |
| | Sometimes you read a book thinking this is really good, I'm enjoying this book and then the plot twist smacks you in the face and wow and then it ends and you're thinking how did I not read this sooner all while in tears. That was this book. |
In Her Defense by Julianna Keyes
Wow! What a book. Nothing like your friend mentioning a hot IT guy to make you want to read a book. And hot nerd Eli was. I really enjoyed the chemistry between the main characters and the growth they both went through. There was an OH SHIT moment where I wanted to deck Eli. I won't say more.
The 100 Series by Kass Morgan
The 100, Day 21, Homecoming
So different from the show but so good in it's own way. It's more like the book and show have a similar premise and character names, similarities stop there.
The Winner's Curse by Marie Rutkoski
THIS BOOK! I higly enjoyed it the first time around when it was originally published. I'd heard how crushing the second book was so I waited until I had book three in my hands to start it. Of course I had to do a reread before going
Last Will and Testament by Dahlia Adler
I absolutely adore this book. This is a re-read for me and a very much enjoyable one. It is full of heartache, friendships, new love and laughter. Dahlia spins such wonderful stories I can't wait to read them all.
The Siren by Kiera Cass
This book was oddly compelling. I wasn't sure at first how I would like it and where the story would take me but in the end I found myself in tears as the heartache came crashing to an end.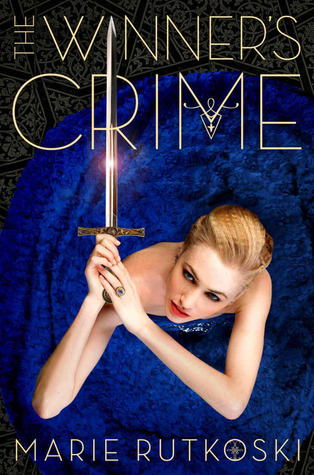 The Winner's Crime by Marie Rutkoski
Wow oh wow. There's not much I can say about this book other than it brought so many more questions I can't wait to get answered. I'm not a big fantasy reader but I want more of this.